FST at FACULTY OF AGRONOMY, ANAU, YEREVAN, ARMENIA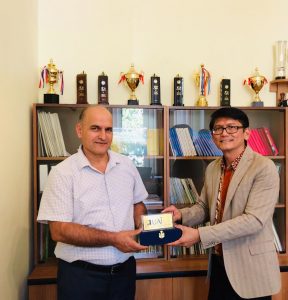 In the present day of higher education, the need for international collaboration has risen to an unprecedented level. Many global issues required a worldwide partnership to solve problems through cooperation. Solutions to environmental, population, or education problems, just to name a few, are excellent examples of this need.  For this purpose, Dean of Faculty of Science and Technology, Universitas Al Azhar Indonesia (UAI), Hidayat Yorianta Sasaerila, Ph.D. visited Dr. Ter-Grigoryan Armenak, Dean of Faculty of Agronomy of the Armenian National Agrarian University (ANAU), located in Yerevan, the beautiful capital city of Armenia.
Armenian National Agrarian University is a state university, historically was a Faculty of Agriculture under the flag of Yerevan State University.  As the need to focus on developing agriculture to support Armenian economy, ANAU was formed by merging the Faculty of Agriculture with Yerevan Zoo Technical Veterinary Institute and the Armenia Agricultural Academy in 1994. Now, ANAU has five Departments: Agronomy, Food Technologies, Agrarian Engineering, Veterinary Medicine & Animal Husbandry, and Agribusiness & Economic, with about 3300 fulltime students, and 4900 part-time students.
As in most campuses around the world, top management of ANAU also places innovation technology as one of the goals of this institution. The strategic approach taken by ANAU management was integrating Fundamental and Applied Agriculture with Agribusiness research.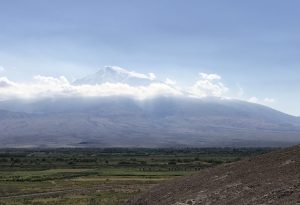 This approach has proven to be effective as seen in the success of converting the semi-desert area of Ararat valley (inset: Ararat valley with the famous Mount Ararat in the background). Through innovation, this valley that has extreme temperatures of minus 30oC in the winter to plus 40oC in the summer, was converted into one of the most productive agricultural lands in Armenia.
Internationally, ANAU greets international cooperation with open-arms. During this visit, the Food Technology sector became the focus of discussion, especially regarding halal products, in which Armenia has two large markets: Iran and Turkey. The Dean was enthusiastic about commencing collaboration with UAI Food and Technology Department.  For further information on ANAU, please visit http://www.anau.am.  Letter of Agreement between the two faculties is in progress.